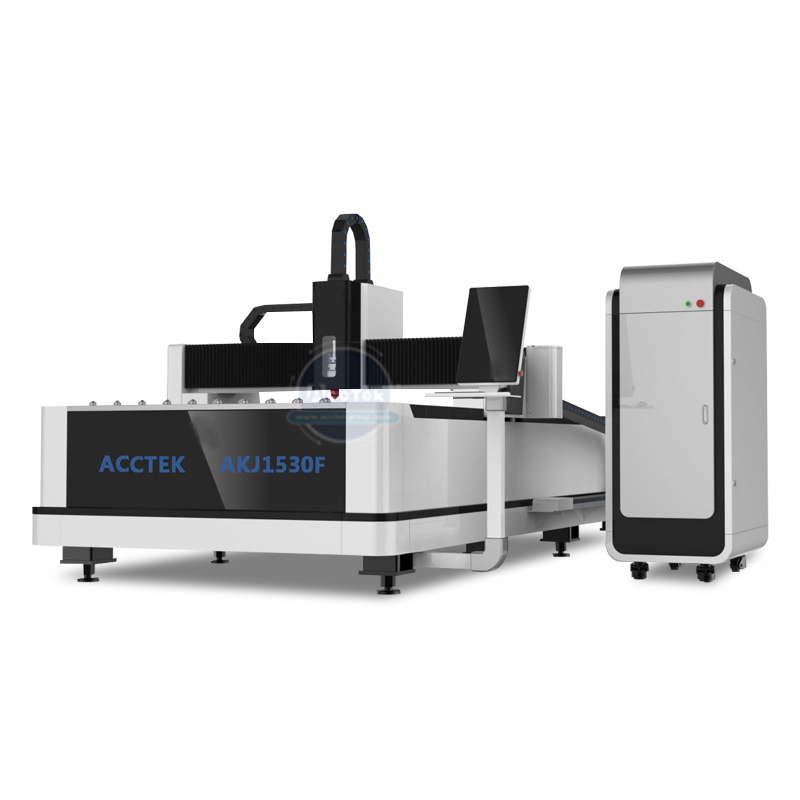 The optical fiber laser cutter USES a high-performance laser cutter. During the cutting process, the laser emits numerous high-performance, high-energy laser rays. The huge energy generated by these laser rays can vaporize the cut surface instantly, so that the very hard interface can be easily cut off.At present, this process also belonged to one of the most advanced cutting technology, without any other cutting process can go beyond it, and the cutting process in the process of cutting speed is very fast, can instantly will easily cut very thick steel plate, and the precision of cutting is also very accurate, cutting the cross section of precision can reach around a few millimeters, can completely meet the demand of some high requirements of cutting.
In cutting process, the use is extremely stable laser, the service life of the laser head for a few years, and in the process of using in addition to human factors, almost won't produce any fault system itself, so even if the laser cutting machine in the long time work under pressure, also won't produce any vibration or other adverse effects.
It can be applied to the processing of metal products in daily life, such as advertisement metal letters, kitchen utensils and appliances, environmental protection equipment, etc.Laser cutting machine is widely used in electronics, electrical appliances, mechanical hardware, new energy lithium, packaging, solar energy, LED, automotive and other industries.Stainless steel, carbon steel, alloy steel, copper, brass, silicon steel, galvanized sheet, Nitinol, inconel, titanium alloy, etc.
| | | |
| --- | --- | --- |
| 1 | Model | AKJ1530F2 |
| 2 | Laser power | 1000W/1500W/2000W/3000W (Optional) |
| 3 | Dimensions | 4440* 2500*1860mm |
| 4 | Working area | 3000mm x 1500mm |
| 5 | Repeat positioning accuracy | ±0.02mm |
| 6 | Maximum speed | 80m/min |
| 7 | Max acceleration | 1.0G |
| 8 | Max Cutting Speed | 60m/min |
| 9 | Motor &driver | Japanese YASKAWA brand |
| 10 | Laser head | Raytools |
| 11 | voltage | 380V 50Hz/60Hz/60A |
| 12 | Weight | 3500Kg |
---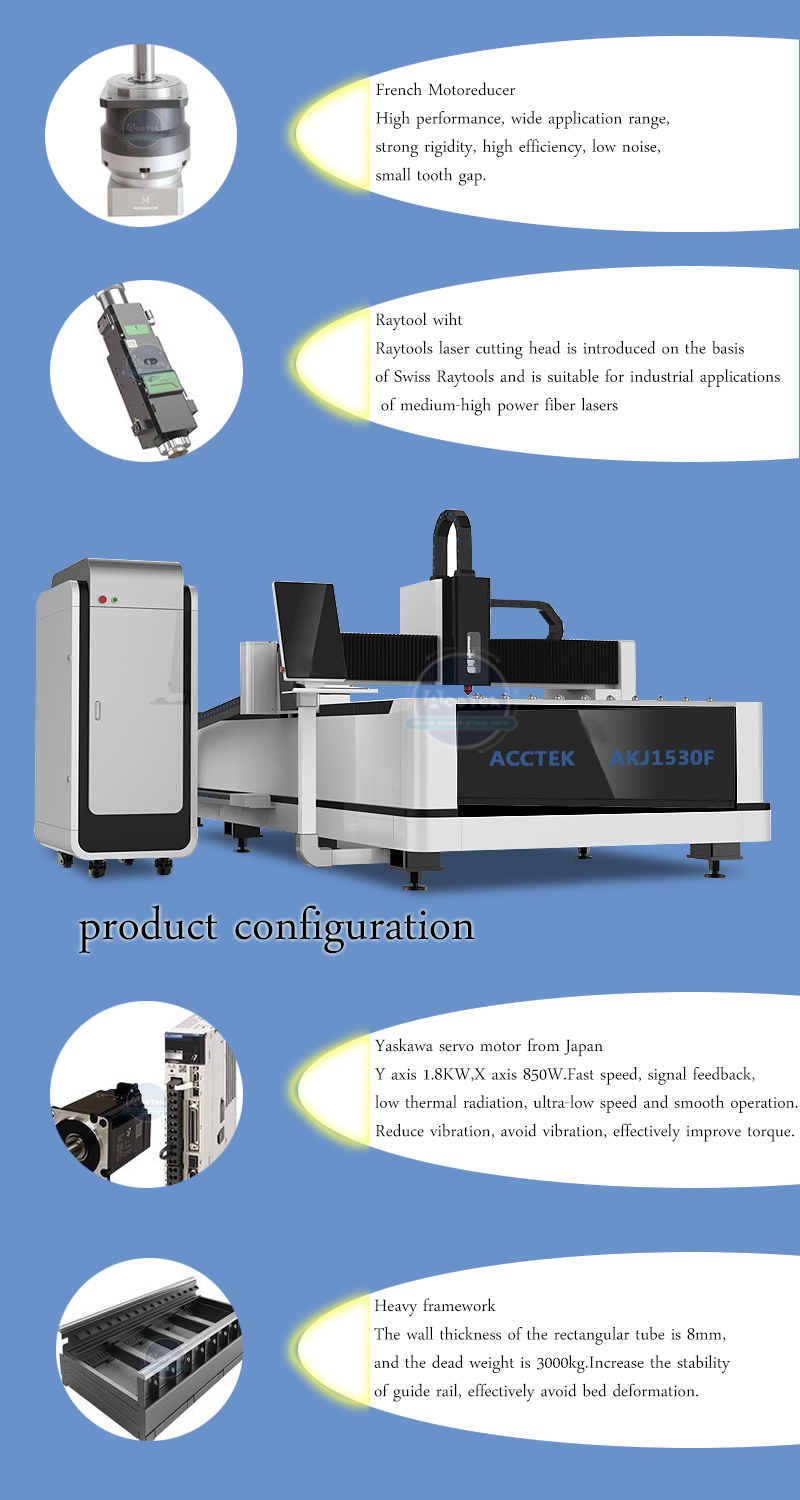 Heavy duty Frame
Thickness of rectangular pipe wall is 8mm, itself weights 3000 kg, increases the stability of the guide rail so as to effectively
avoid the deformation of the bed. Lifetime is up to 15 years.

Aviation Aluminum Gantry
Light weight, high strength, no deformation. Molded and framed by integral steel mold and die-casting technology, light crossbeam
enables equipment a high operation speed, improving processing efficiency and processing quality.

French Motoreducer
High performance, wide application, high rigidity, high efficiency, low noise and low backlash.

APEX Rack&Pinion
Geometrical Tolerance of all Dimensions Defined Straightness, Parallelism and Perpendicularity Helical Angle and Pressure Angle
with Tolerance Defined Surface Roughness of Teeth Defined Hardness and Thickness of the Hardened Layer on the Teeth.

Raytool cutting head
The Raytools Laser Cutting Heads are released based on Switzerland RAYTOOLS, which are suitable for medium and high power fiber
lasers in industrial applications

Raycus laser generator
Raycus has an efficient and professional R&D and production team. The single module CW fiber laser series not only can meet
diversified demands of customers to the greatest extent, but also provide personal customization service. Now laser output
connector is QBH, with multiple control modes.

Japanese Yaskawa Servo Motor
Y axis 1.8KW, X axis 850W. Faster speed with signal feedback. Low heat radiation. Run smoothly at ultra-low speed. Reduce the
vibration, avoid oscillation. Efficient torque enhancement.
More powerful Raycus laser
We supply laser power from 0.5KW to 12KW to meet different customers'cutting demands.

Auto rotary axis
For cutting round pipes and square tubes. It adopts an electric clamp design on both sides and it can

IPG Laser Generator
IPG Laser Generator is available from 1.0KW to 12KW. It has better performance in cutting aluminum,b
---
Application:

AKJ1530F2 fiber laser cutting machine is good at processing on common metal items in daily life such as advertising metal letter, kitchenware, environmental protection equipment. Laser cutting machines are widely used in electronics, electrical, mechanical hardware,new energy lithium, packaging, solar, LED, automotive and other industries. Stainless steel, carbon steel, alloy steel, copper, brass, silicon steel, galvanized steel sheet, nickel titanium alloy, inconel, titanium alloy, etc.