The machine introduced today, though similar to the machine introduced a few days ago, belongs to AKM1325C series, but it has an additional horizontal axis, which I hope can meet your needs
Automatic tool changing cnc router is the highest technology engraving machine equipment, it has an independent tool library, can automatically change the required tools in the workpiece processing, do not need to stop work.To be able to carve complex patterns, choose different
cutting tools, greatly accelerate the work efficiency, improve product quality.Automatic tool changing engraving machine is also the ultimate trend of the development of CNC engraving machine equipment.
---
Characteristics
1, Dulian-style/straight-line knife storehouse is a standard machining center with high cost performance.
2. The machine is suitable for the processing of diversified compound products and has a wide range of functions: drilling, cutting, trimming, etc.
3, the table is a strip vacuum adsorption table, which can not only strongly absorb materials of different areas, but also use fixtures to fix various shaped materials, which is flexible and convenient.
4. Row drilling is optional.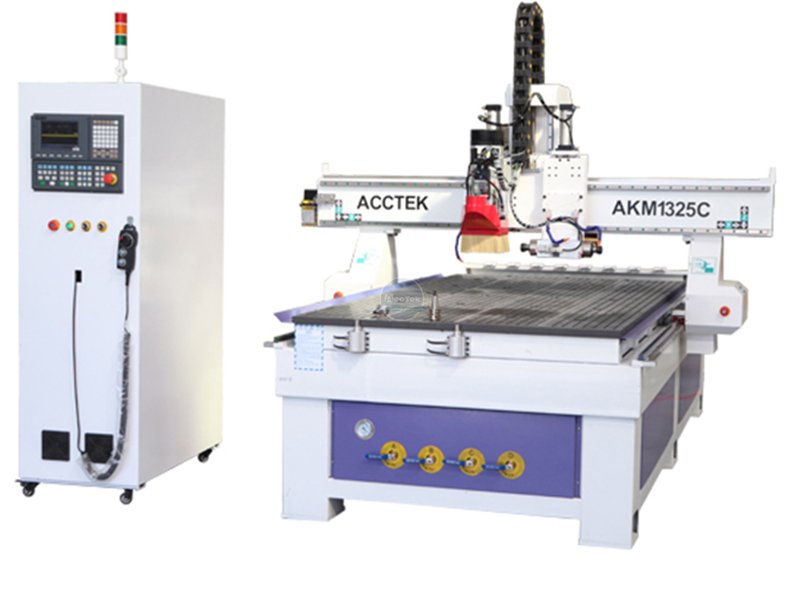 ---
Basic Features
1,9KW ATC +3.5KW air cooling spindle
9.0kw ATC spindle for engraving and cutting. the horizontal spindle with bits on both sides is a good choice for drilling and milling horizontally.
2,Auto tool magazine
8pc linear type auto tool changers, ISO30. Don't need to change tools manually when machine works, improve efficiency a lot.More tool changers is available.
3,Syntec controller
The system stability is very good, the man-machine operation is friendly, easy to learn and operation, powerful function.
4,HIWIN Guide rails
Rail works with slider ,drive the machine move ,with good bearing capacity.
5,Taiwan Delta servo motor
Faster speed with signal feedback . Low heat radiation . Run smoothly at ultra-low speed. Reduce the vibration ,avoid oscillation . Efficient torque enhancement
6,5.5kw air vacuum pump
The air between the workpiece and the worktable surface is extracted to form a negative pressure, so as to achieve the purpose of fixing on the worktable.
---
Options
1,Cutting saw
High service life, sharper, can cut a variety of materials
2,Boring unit
Ensure machining accuracy and save machining time
3,Carousel tool changer
Fast speed, more convenient, save processing time, high control accuracy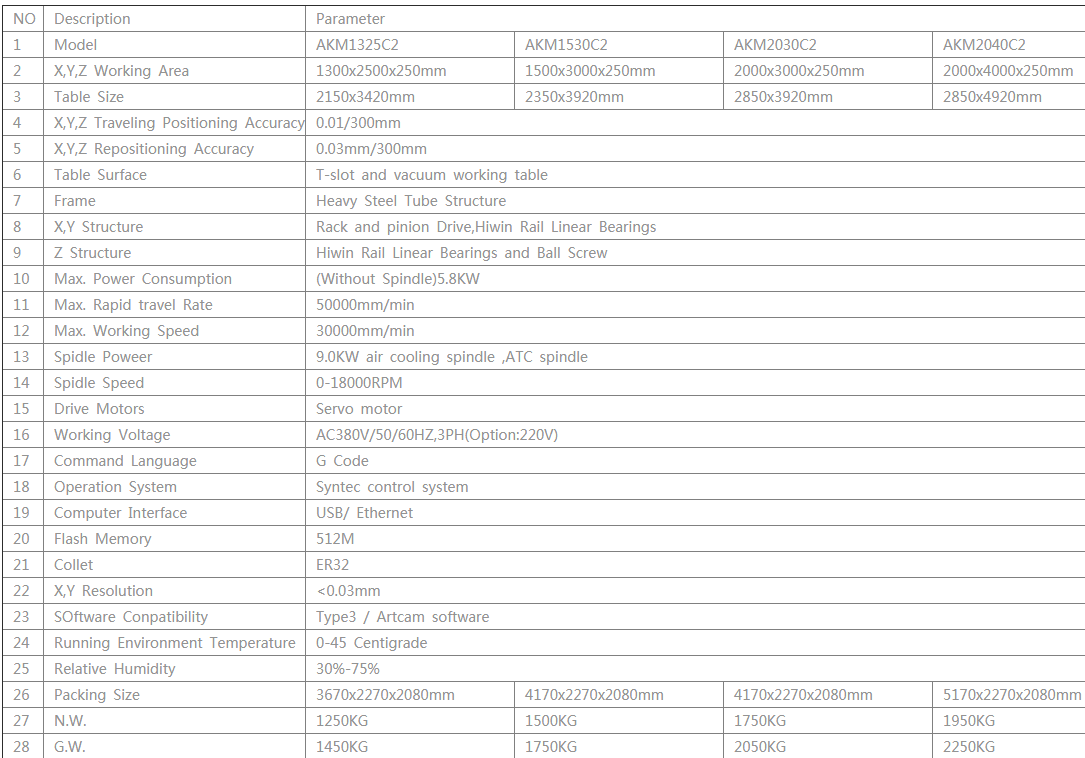 ---
Applications
1,Furniture: wooden doors, chairs,cabinets, stairs,computer tables, sewing machine, musical instruments
2,Plate processing: insulation, plastic and chemical, the PCB, move the car body, bowing, track, stars anti-special board, epoxy, resin, ABS, PP, PE, and other carbon mixture
3,Decoration industry: acrylic, PVC, MDF, artificial stone, plexi-glass, plastic, and copper and aluminum and other soft metal plate engraving and milling cutting.

If you are interested in it, please feel free to contact us.
TEL: +086-0531-86160023
MAIL: sales@acctekgroup.com