AKJ1530F high quality fiber laser cutting machine
1)main structure:
(1)Heavy duty Frame
Thickness of rectangular pipe wall is 8mm, itself weights 3000 kg, increases the stability of the guide rail so as to effectively avoid the deformation of the bed. Lifetime is up to 15 years.
(2)Aviation Aluminum Gantry
Light weight, high strength, no deformation. Molded and framed by integral steel mold and die-casting technology, light crossbeam enables equipment a high operation speed, improving processing efficiency and processing quality.
(3)French Motoreducer
High performance, wide application, high rigidity, high efficiency, low noise and low backlash.
(4)APEX Rack&Pinion
Geometrical Tolerance of all Dimensions Defined Straightness, Parallelism and Perpendicularity Helical Angle and Pressure Angle with Tolerance Defined Surface Roughness of Teeth Defined Hardness and Thickness of the Hardened Layer on the Teeth.
(5)Raytool cutting head
The Raytools Laser Cutting Heads are released based on Switzerland RAYTOOLS, which are suitable for medium and high power fiber lasers in industrial applications
(6)Raycus laser generator
Raycus has an efficient and professional R&D and production team. The single module CW fiber laser series not only can meet diversified demands of customers to the greatest extent, but also provide personal customization service. Now laser output connector is QBH, with multiple control modes.
(7)Japanese Yaskawa Servo Motor
Y axis 1.8KW, X axis 850W. Faster speed with signal feedback. Low heat radiation. Run smoothly at ultra-low speed. Reduce the vibration, avoid oscillation. Efficient torque enhancement.
2)Parameter:

3)Main features:
(1) optical fiber laser has high electric-to-optical conversion efficiency, which is more than 30%. Low-power optical fiber laser does not need to be equipped with chiller, and adopts air cooling, which can greatly save the power consumption during work, save the operation cost and achieve the highest production efficiency.
(2) the operation of the laser only requires electric energy, no extra gas is needed to produce the laser, and it has the lowest operation and maintenance costs.
(3) the fiber laser adopts the design of semiconductor modularization and redundancy. There is no optical lens in the resonant cavity, and no start-up time is needed. It has the advantages of free adjustment, free maintenance and high stability, which reduces the cost of accessories and maintenance time, which is incomparable to the traditional laser.
(4) the output wavelength of the fiber laser is 1.064 micron, 1/10 of the wavelength of CO2. The output beam is of good quality and high power density, which is very conducive to the absorption of metal materials. It has excellent cutting and welding ability, thus making the processing cost lowest.
(5) the whole machine optical route optical fiber transmission, does not need the complex mirror and other light guide system, the optical path is simple, the structure is stable, the external optical path maintenance free.
(6) there are protective lenses in the cutting head, so that precious consumables such as focusing lens are rarely consumed.
(7) light is exported through optical fiber, making the design of mechanical system very simple and easy to integrate with robot or multi-dimensional workbench.
(8) after the laser is equipped with a light gate, it can be divided into multiple machines by optical fiber and work at the same time. It is easy to expand the function and easy to upgrade.
(9) optical fiber laser is small in size, light in weight, movable in working position, and occupies a small area.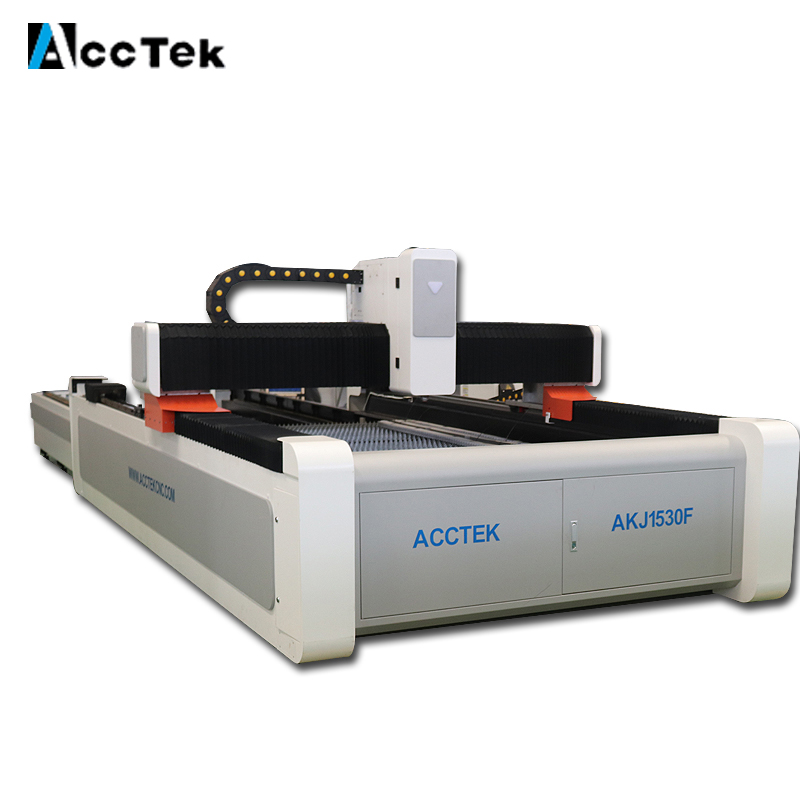 4)Maintenance:
How should fiber-optic laser cutting machine be used and maintained?In the use of optical fiber laser cutting machine for object processing, need to learn the use of optical fiber laser cutting machine equipment, maintenance skills, in order to better play the effectiveness of the equipment, to maximize the efficiency of the equipment.
How to use and maintain the fiber laser cutting machine:
(1) check the steel belt frequently and make sure it is tensioned.Otherwise in the operation of the problem, it may hurt people, serious can also lead to death.The steel strip looks like a small thing, but there is something serious wrong with it.
(2) check the straightness of the track and the verticality of the machine every six months, and timely maintenance and debugging if abnormal conditions are found.Do not do this, it is possible to cut out the effect is not very good, the error will increase, affecting the quality of cutting.This is a top priority and must be done.
(3) use a vacuum cleaner once a week to remove dust and dirt from the machine. All electrical cabinets should be strictly dustproof.
(4) each guide rail should be cleaned regularly to remove dust and other sundries, and the equipment should be wiped regularly to ensure normal rack and lubricating oil is added to ensure lubrication without sundries.Guide rail should be cleaned and lubricated frequently, and the motor should be cleaned and lubricated frequently, so that the machine can move in a better position and cut more accurately, and the quality of cut products will be improved.
(5) the double focal length laser cutting head is a fragile item on the laser cutting machine, which has been used for a long time, resulting in the damage of the laser cutting head.
5)Applications
AKJ1530F fiber laser cutting machine as one Classic model, widely used in life, such as processing of stainless steel kitchenware, storage cabinet and other cabinets, is closely related to people's daily life.
Used for cutting a variety of metal plates, pipes (add pipe cutting device), mainly used in stainless steel, carbon steel, galvanized sheet, electrolytic plate, brass, aluminum, various alloy plate, rare metal and other metal materials.