Four axis cnc router -- wood mold, foam processing center
Basic Features
1,DISC type ATC device
Fast response ,with 8-10 pieces auto tool changer ,high working efficiency .
2,9KW Air cooling spinDle
Smooth body, not easy to rust;powerful and longer lifetime.Independent research and development, rational design.
3,Syntec controller 6MB .
The system stability is very good, the man-machine operation is friendly, easy to learn and operation, powerful function
4,HIWIN Guide rails
Rail works with slider ,drive the machine move ,with good bearing capacity.
5,JAPANESE YASKAWAservo motor
Faster speed with signal feedback .Low heat radiation .Run smoothly at ultra-low speed.Reduce the vibration ,avoid oscillation .Efficient torque enhancement .
6,5.5kw air vacuum pump
The air between the workpiece and the worktable surface is extracted to form a negative pressure, so as to achieve the purpose of fixing on the worktable.
---
Options
1,Oil free vacuum pump
Continuous operation, no oil, low noise, low vibration, green and low energy consumption
2,Mist spray cooling system
Reduce the heat of material and workingtool bits .suitable for metal processing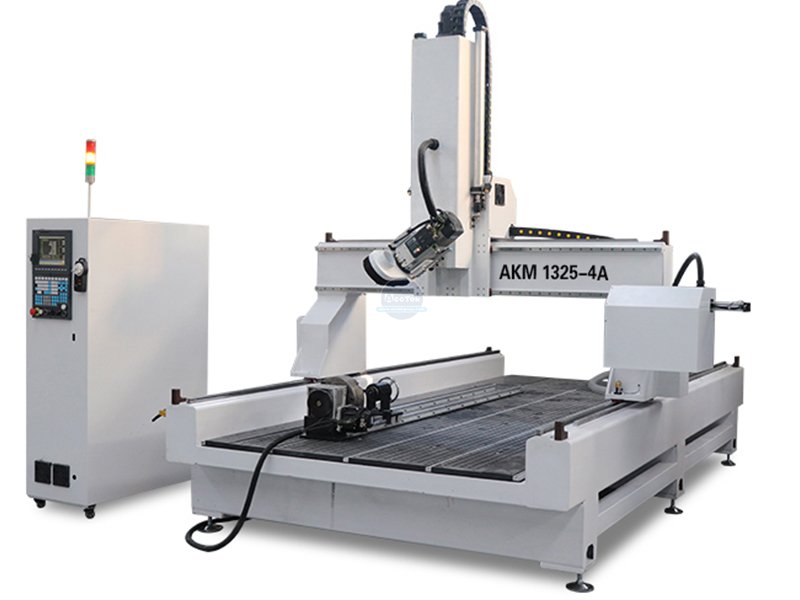 ---
Basic features:
1, multi-spindle carving: in the same pattern can be carried out multi-spindle work at the same time, greatly improve the processing speed, but also single spindle independent work, control the production cost.
2, the overall thickness of the bed is all steel structure design, after welding tempering aging treatment, strong rigidity, large strength, stable rotation, so that long time high-speed operation without deformation, no shaking.
3. The machine adopts Taiwan Yintai linear guide rail drive, three-axis full square rail, and can be re-cut;It adopts international brand micro-step subdivision stepper motor and high-speed driver to ensure the machine runs at high speed for a long time.
4, using embedded PIC numerical control system, make the machine tool and computer seamless combination, simple operation, unique intelligent algorithm, is give full play to the potential of high-speed motor, linear synchronous processing more perfect, and easy operation for a long time, have power, breakpoint continued carving, processing time prediction and real humanized design.Perfect support of ISO standard G instruction, ENG format, compatible with various Types/ArtCAM / / wentai CAD/CAM design software generated processing code.
5, designed for mass and small workpiece processing customer requirements and design, suitable for processing cabinet door, art embossment screen, window, embossed craft gifts, wood art murals, carpentry, calligraphy carving, picture frames, electrical counter top, sports equipment, violin cambered surface, non-ferrous metal engraving and cutting, and many other industry products.
---
Applicable industry and materials:
1. Woodworking industry: rosewood and other hardwood antique classical furniture relief, engraving and other carving process.
2. Furniture industry: wooden doors, cabinets, boards, offices, solid wood furniture, tables, chairs, doors and Windows,
3. Advertising industry: advertising signs, logo production, acrylic cutting, blister molding, production of a variety of materials advertising decoration products.
4. Wood products: stereo, game cabinet, computer desk, sewing machine table, Musical Instruments.
5. Plate processing: insulation parts, plastic chemical parts, PCB, bowling track, stairs, anti-bate special board, epoxy resin, ABS, PP, PE and other carbon mixture.
6. It can be applied to: aluminum cutting industry, aluminum plate, aluminum plastic plate, aluminum honeycomb plate, aluminum profile, 3D engraving process, wave plate production, all kinds of artificial plate shaped opening material, LED, neon light groove cutting, molding blister light box.Acrylic, copper board, PVC board, artificial stone, MDF board and other kinds of plate processing.
If you are interested in it, please feel free to contact us.
TEL: +086-0531-86160023
MAIL: sales@acctekgroup.com