The
fiber laser machine AKJ1325F-2
produced by ACCTEK is an engraving equipment that combines a CO2 laser head and a fiber laser head. It can not only cut metal, but also engrave non-metal, it is a powerful fiber cutting machine.
Last week we had a user who encountered the problem of O2 alarm when using this metal laser cutting machine. Through the online guidance of our engineer, the problem was quickly solved. This post organizes the removal method of the oxygen alarm of the laser cutting machine AKJ1325F-2.
Laser Cutting Machine 1325F-2 How to remove O2 alarm
When turn on the machine, there is a O2 alarm shows in the software.
Reason 1: The O2 pressure is low, need increase the O2 pressure in the gas tank.
Reason 2: Decrease the low-pressure value's pressure, let the O2 go through the value but don't cause the alarm. If the pressure is higher than green indicator, no alarm shows.
Reason 3: Somewhere wire connection is broken, so we need ignore the alarm then continue to use machine.
Select Options, then input password "3721".

Select IO, then change the O2 DO Port to 0, then save the setting.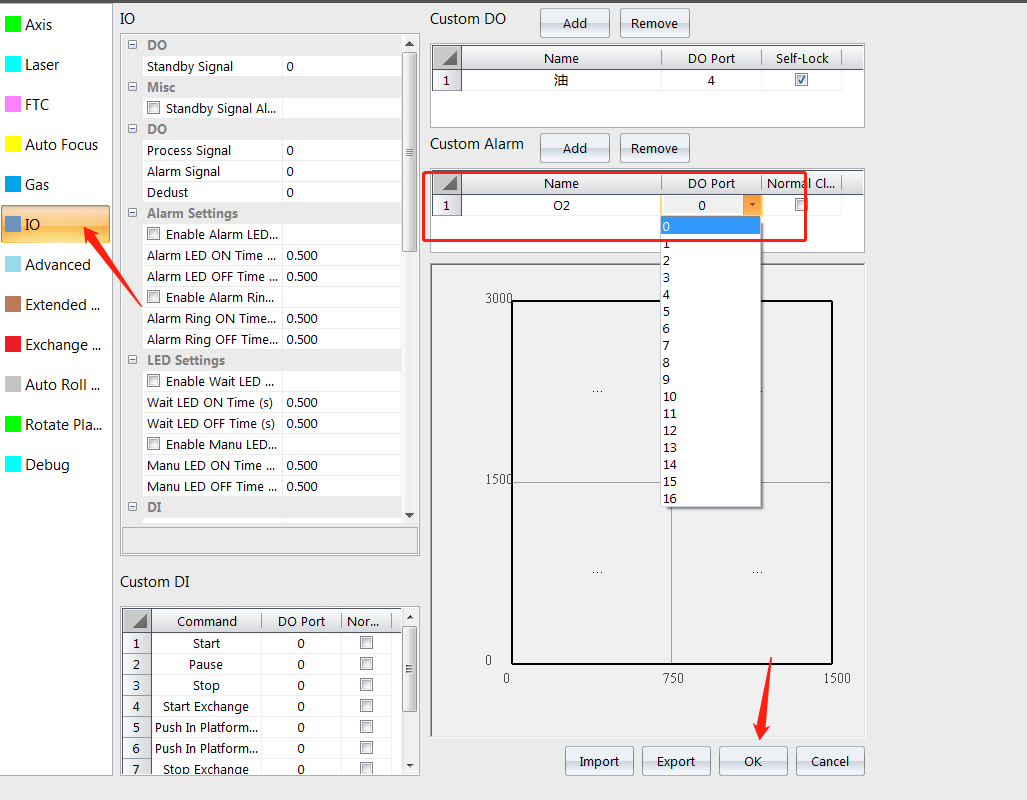 Detailed information of CO2 and fiber combined laser cutting machine:
The
fiber laser machine AKJ1325F-2
is an engraving & cutting equipment that combines a CO2 laser head and a fiber laser head. It can cut metal or engrave non-metal, and you can use this machine to process more types of workpieces. It is a powerful laser cutting machine.
The working area of this laser machine is 1300×2500mm. Equipped with Raycus 1000W laser generator, with higher electro-optical conversion efficiency, higher and more stable optical quality, ensure more stable and more sophisticated cutting effect in thick sheet cutting. This series of lasers apply to many application scenarios, with a narrow seam of the cut sheet and bright section.
Au3tech cutting head adopts precision optical components, and the beam quality is excellent and stable. The perfect water cooling structure ensures the cooling effect of the optical lens. High-grade dust-proof design, effectively avoid dust intrusion.
Equipped with a Reci W6(150W) CO2 laser tube, slim beam, high quality spot. It can cut non-metal materials up to 20mm. It has long lifetime, stable cutting performance. Installation of reinforcement stings, the laser tube is not easy to collide and cause damage when moving the machine.
The CO2 and fiber combined laser cutting machine can process a wider range of materials, the CO2 laser head is used for engraving and cutting non-metallic materials, and the fiber laser head is used for cutting metal sheets. This multifunctional laser metal cutting machine allows users to process more kinds of materials and produce diversified products.

Applied materials and Industry:
Fiber cutting head (Metal Material):
Mainly used for cutting carbon steel, silicon steel, stainless steel, aluminum alloy, titanium alloy, galvanized steel sheet, pickling board, aluminum zinc plate, copper and many kinds of metal materials cutting and so on.
Fiber cutting head (Metal Industries):
Applied in sheet metal processing, aviation, spaceflight, electronics, electrical appliances, subway parts, automobile, machinery, precision components, ships, metallurgical equipment, elevator, household appliances, gifts and crafts, tool processing, adornment, advertising, metal foreign processing various manufacturing processing industries.
CO2 cutting head (Nonmetal Material):
Wood, acrylic, rubber, plastic, cloth, leather, MDF, etc.(engraving and cutting)
stone, organic glass, crystal(only can engraving).
CO2 cutting head (Nonmetal Industries):
1.Advertising: billboard, logo, sign, 3D characters cutting, LED/neon channel, mould, seal, etc.
2.Woodworking: MDF,wooden mould, wood planks,bamboo, density board
3.Decoration: organic glass, double color board, lamp shade, crafts, ceramic, etc.
4.Clothing: leather, cloth, textile, shoes, fabric, etc.
ACCTEK is a professional supplier of laser cutting machines and CNC engraving machines. Our engraving and cutting equipment is trusted by users in different countries. If you are engaged in the metal manufacturing industry or provide metal manufacturing services, our
fiber laser machines
will bring you a bigger market.