First understand what is a three-dimensional
four-axis engraving machine
.Generally is in the plane engraving machine on the basis of A rotation axis, also known as axis A, is the four axis three-dimensional engraving machine.So what kind of carving machine is a real four-axis carving machine and what is a false four-axis carving machine?We give another example of cylindrical solid four axis sculpture, carved by a short stick to a circle, a three-dimensional figure of Buddha sculpture is cylindrical three-dimensional sculpture, the sculpture work, there are four axis but with triaxial system, also is to use the x or y axis to drive the axis of rotation, the real work is three-axis linkage of engraving machine engraving machine is four axes three linkage.
Secondly, we understand what is the real four-axis linkage engraving machine, in fact, refers to X, Y, Z, A (also called C, actually is A name problem) four axis linkage, that is to say, the four axis can be simultaneously moving.Believe that there are quite a few customers friends heard of or contact with three axis machine engraving machine combined with the rotation axis, it seems is the four axis cylinder engraving machine is commonly used for relief, which is in the cylinder surface relief carving, wood and stone materials, general carving samples can pass this kind of carving machine to realize four axis three linkage.
When do you use a real four-axis engraving machine?Engraving content is different, determines the type and configuration of the carving machine is different, have cylindrical three-dimensional sculpture demand, really will use four axis engraving machine, if it's just cylindrical surface relief sculpture demand, so as long as with three axis system with three axis rotation axis engraving machine line, after all, the original four axis system with three axis between the prices are quite different.
But in fact, there are four axis carving machine and the real meaning of the four-axis carving machine is very different.Four-axis engraving machine, only with a special four-axis system, with the corresponding software to make a special knife path, can be called a real four-axis engraving machine, can also complete only four-axis engraving machine can complete the work - cylinder three-dimensional four-axis carving.
Jinan AccTek Machinery Co., LTD is a professional manufacturer of CNC equipment and laser equipment.Since 2005, the company has been headquartered in Jinan Industrial Park, Shandong Province, south of Beijing.Our main products are AccTek CNC engraving machines and laser engraving and cutting machines.Inventory or custom configurations are our specialty.Our machine components are sourced from world class suppliers and innovators in machine control.These machines are used in many industrial, craft and art enterprises around the world.These include woodworking, metal and stone, aluminum manufacturing, shipbuilding workshop assembly, mold manufacturing, and so on.Our professional and technical after-sales service department, sales team and perfect quality assurance procedures, so that you feel at ease to buy.We welcome customers and potential business partners from all over the world.We can cooperate for mutual benefit."Our business is to improve your business."
At present, the main products are woodworking engraving machine, advertising engraving machine, stone carving machine, metal carving machine, laser engraving machine, optical fiber laser cutting machine.Products involve woodworking machinery, stone machinery, advertising equipment, laser equipment, metal mold and glass industry, etc., can be customized according to customer requirements.Products have been widely used in advertising gifts, crafts, molds, construction, seals, signage, woodworking furniture, stone processing, metal cutting, glass technology, leather and clothing processing and other industries.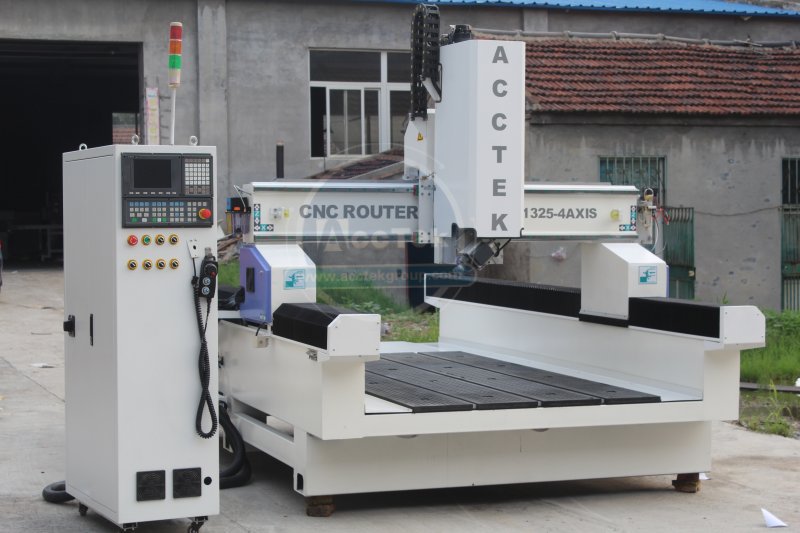 ---
The four-axis cnc router
is only the engraving machine that conforms to the development of mold processing, its existence is not a substitute for the three-axis product, but an innovative product of the development of the engraving machine. The four-axis cnc router makes the multi-angle engraving machine library no longer a luxury.
1,The bed body adopts trapezoidal generous tube design, and after professional failure treatment such as tempering and stress removal, ensure the bed body is firm and not deformed for a long time.
2,Taiwan new generation control system, air cooled spindle imported from Italy.
3,The XYZ axis adopts the original Taiwan silver square rail, the XY axis adopts the domestic well-known high-precision oblique teeth rack, and the Z axis USES the Taiwan origin nut TBI lead screw.
4,Manual lubrication system, independent chassis, dual surface of adsorption fixture.
5,Spindle can rotate +/-90 degrees, can achieve side milling groove, drilling, cutting, very suitable for processing all kinds of curved surfaces, high precision, fast speed, fully meet the needs of the needs of carving.
Main Features
This cnc machine
is strong function and automatic tools change, suitable for multiple complex product processing and multi-processing. Applicable to process wood door, kitchen cabinet, solid wood furniture, computer desk, screen stencil, art windows, acrylic, PVC board, sign plate and plastic molding in high efficiency.
1. Rotary spindle. Swing +-90 degree, very suitable for carving 3d wood sculpture or wooden toy or car plane moulds;
2. Rotary device design. Specially for cylinder objects, like cylinder wood craft, furniture chair leg, relief etc;
3. Taiwan SYNTEC control. Very popular controller system among customers. If you are new in this field, we can send you videos to learn, simple operation and easy maintenance