Product display:
The optical fiber laser cutter USES a high-performance laser cutter. During the cutting process, the laser emits numerous high-performance, high-energy laser rays. The huge energy generated by these laser rays can vaporize the cut surface instantly, so that the very hard interface can be easily cut off.At present, this process also belonged to one of the most advanced cutting technology, without any other cutting process can go beyond it, and the cutting process in the process of cutting speed is very fast, can instantly will easily cut very thick steel plate, and the precision of cutting is also very accurate, cutting the cross section of precision can reach around a few millimeters, can completely meet the demand of some high requirements of cutting.
In cutting process, the use is extremely stable laser, the service life of the laser head for a few years, and in the process of using in addition to human factors, almost won't produce any fault system itself, so even if the laser cutting machine in the long time work under pressure, also won't produce any vibration or other adverse effects.
It can be applied to the processing of metal products in daily life, such as advertisement metal letters, kitchen utensils and appliances, environmental protection equipment, etc.Laser cutting machine is widely used in electronics, electrical appliances, mechanical hardware, new energy lithium, packaging, solar energy, LED, automotive and other industries.Stainless steel, carbon steel, alloy steel, copper, brass, silicon steel, galvanized sheet, Nitinol, inconel, titanium alloy, etc.
---
| | | |
| --- | --- | --- |
| 1 | Model | AKJ1530F3 |
| 2 | Laser power | 1000W/1500W/2000W/3000W/4000W/8000W/12000W(Optional) |
| 3 | Dimensions | 4600*2450*1700mm |
| 4 | Working area | 3000mm x 1500mm |
| 5 | Repeat positioning accuracy | ±0.02mm |
| 6 | Maximum speed | 120m/min |
| 7 | Max acceleration | 1.0G |
| 8 | Max Cutting Speed | 80m/min |
| 9 | Motor &driver | Japanese YASKAWA brand |
| 10 | Laser head | Raytools |
| 11 | voltage | 380V 50Hz/60Hz/60A |
| 12 | Weight | 5000Kg |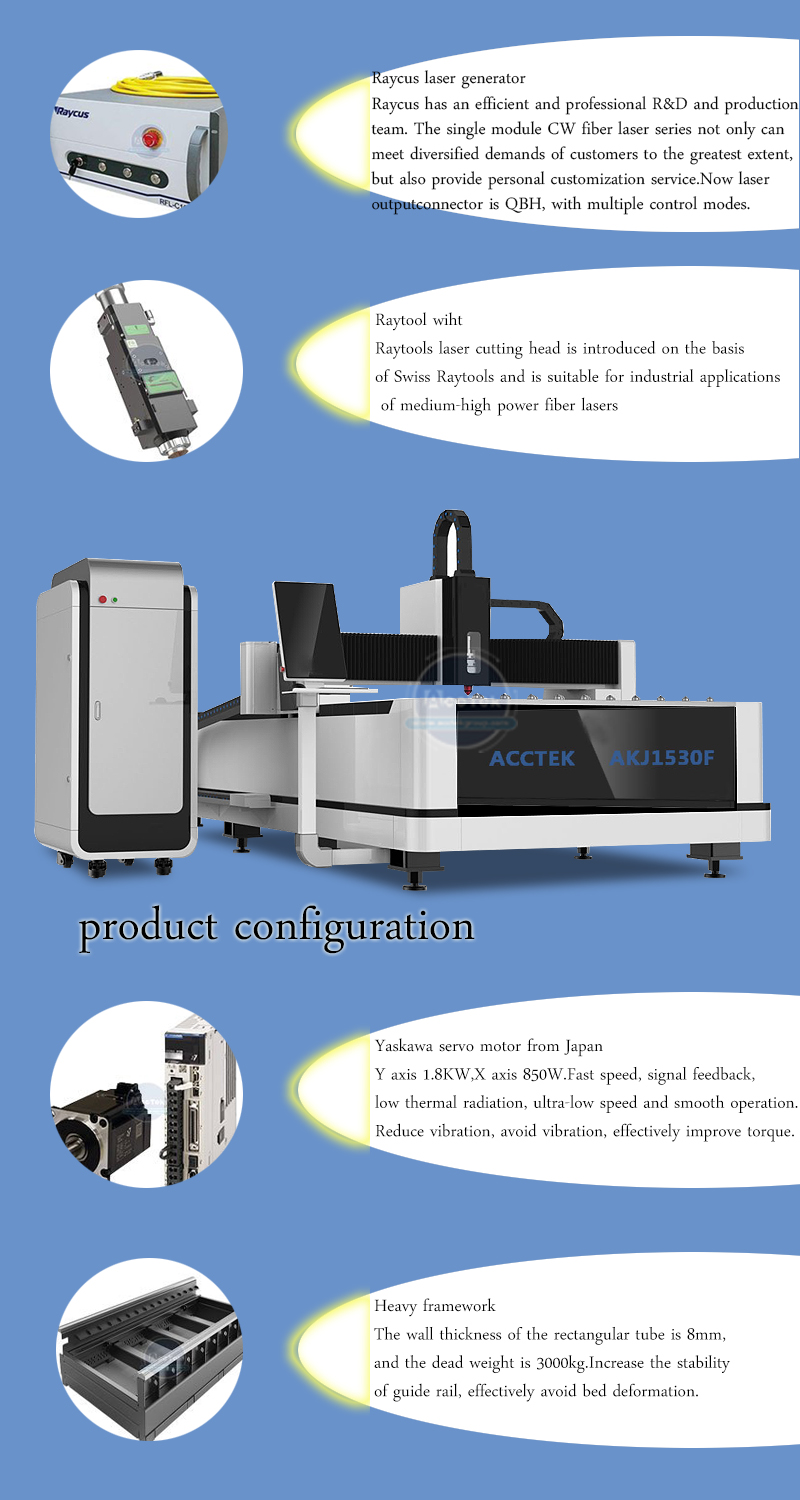 ---

AKJ1530F3 fiber laser cutting machine as one classic model, widely used in life, such as processing of stainless steel kitchenware, storage cabinetand other cabinets. Used for cutting a variety of metal plates, pipes (add pipe cutting device), mainly used in stainless steel, carbon steel, galvanized sheet, electrolytic plate, brass, aluminum, various alloy plate, rare metal and other metal materials.