Three-axis cnc router is one of the most commonly used machining techniques in industrial processes. Therefore, using a three-axis cnc router allows the router to work on three axes, namely X, Y, and Z.
The three-axis CNC router is a solid steel frame structure with a high frequency 4hp/6hp spindle. It has a high-speed three-axis motion controller and DSP remote control, user-friendly operation interface. The CNC router can be used in the construction industry (building decoration elements, kitchen cabinets and doors, curtain walls and curtain walls, columns and railings), signs and advertising ( Indoor and outdoor signs, sculptures and sculptures-reliefs, 3D letters, funerals), models and prototypes, plastics and composite materials (ACP, ACM and solid surface materials, etc.). Non-ferrous metals and shipping companies.
---
4-axis CNC router

The four-axis cnc router is based on the XYZ+1 axis and shortens the cycle to make the industry run faster.

The 4-axis CNC router is designed to ensure high performance and low maintenance requirements.

Four-axis cnc router is the best choice for various woodworking projects such as European-style furniture. It can process plastic, metal, wood, resin and other materials, such as plastic, metal, wood, resin, etc., and can also produce plastic, metal, wood, Various materials such as resin.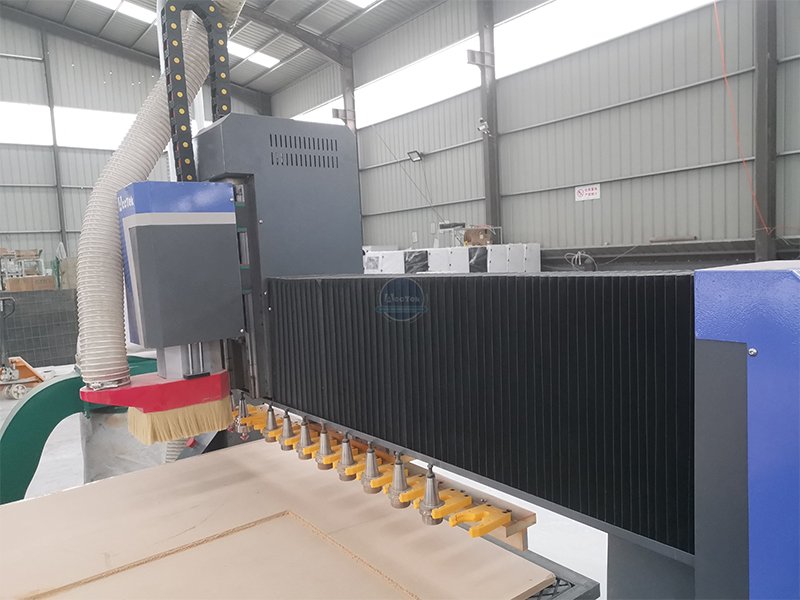 CNC routers are the choice of many workshops, they can meet even the most unique manufacturing needs and stay one step ahead in a highly competitive market. Their design not only provides better cutting quality, but also improves operating efficiency. In addition to flexibility and ease of use, they also have several other features, and they are viable alternatives when it comes to cutting and engraving solutions.
Precision cutting
One of the main benefits is their ability to perform precise cuts. The CNC router is driven by CAD software, which makes the cutting more difficult and more accurate than traditional manual cutting. Precision cutting brings the added benefit of less material waste, which in turn brings greater savings and higher profit margins. Since most of the work is computerized, the labor intensity of this process is low, thereby reducing labor costs. Even low-skilled workers can receive training in processing procedures and monitoring robots.
Work with different materials
Some CNC routers can cut up to 30 different materials, from wood to steel, foam, plastic, acrylic, etc. Those who need a single design to cut repeatedly, these machines can easily handle the process and can keep the production line running unnoticed. Because they do not rely on manual control, CNC routers are more secure and also have safety features to reduce the risk of accidents. Another major advantage is that it eliminates the need for direct training, because programming and control can actually be learned, thereby reducing the burden on human resources.
Flexibility and adaptability
Most importantly, the workshop can take advantage of the inherent flexibility and adaptability of these machines. Operators can change and change products to adapt to needs and requirements, and cooperate with a wide range of business units. Updating the CNC router is very convenient, because all it needs is a software upgrade, without the need to purchase a prototype. In addition, the increasing demand for these machines has led manufacturers to provide a wide range of systems at affordable prices.
---
Features and advantages of automatic tool change
CNC router
:
1. The bed adopts strong steel pipe structure, and adopts heavy and strong structure for analysis and design to reduce stress and make the worktable more stable.
2. It adopts 9.0KW Italian HSD spindle, an internationally renowned brand, and has multiple after-sales service departments around the world. It adopts air-cooled spindle without water pump and is easy to use. It can also be used in some low temperature countries.
3. Adopt high-performance Japanese Ogawa servo motor, with high working accuracy, stable operation of the servo motor, no vibration at low speed, and strong overload capacity.
4. The automatic tool change system of 6 to 8 tools is controlled by the CNC synchronous control system to realize the rapid and reliable tool replacement.
5. The bed lathe control system controls the positioning bearings, ball screws, and linear slides, and is maintained by the automatic lubrication system.
6. Break point memory, continue to etch after power off, predict processing time and other functions.
7. Compatible with Type3/ArtCAM/Castate and other CAD/CAM design software.