CNC engraving machine
is more and more popular, we all find it brings convenience, so CNC engraving machine has what advantages, let us have a look.
1, Versatile: A CNC engraving machine can work on a variety of materials with equal ease.Some models may include additional features and accessories (such as automatic knife changer).Accelerate the production process.
2. High productivity and scalability: Once the design specifications and parameters have been set on the machine, it starts to perform tasks consistently and pays the price for flexible scalability.
3. Low maintenance: Due to the automation of digital machines, they update themselves automatically from time to time, thus simplifying the work process.They don't require regular service.The only thing you need to change from time to time is the cutting tool.Regular light cleaning will only improve the quality of work.None of this requires a call to a professional, which in turn minimizes overhead.
4. Minimum labor requirements: Several operators are required to perform production operations.The whole task can be accomplished by professional programmers and skilled operators, while in manual machines, the operator of each machine and the supervisor of management operations are required.
5. 24-hour endurance: nc engraving machine can work continuously.It can be delivered 24 hours a day unless repairs or necessary repairs are required.
6. Safe environment guarantee: CNC engraving machine provides a safer material cutting environment.Operators engaged in maintaining the proper functioning of the machine do not have to disturb themselves with sharp tools and tools, as is the case with traditional cutting methods.You can finish the work from a distance.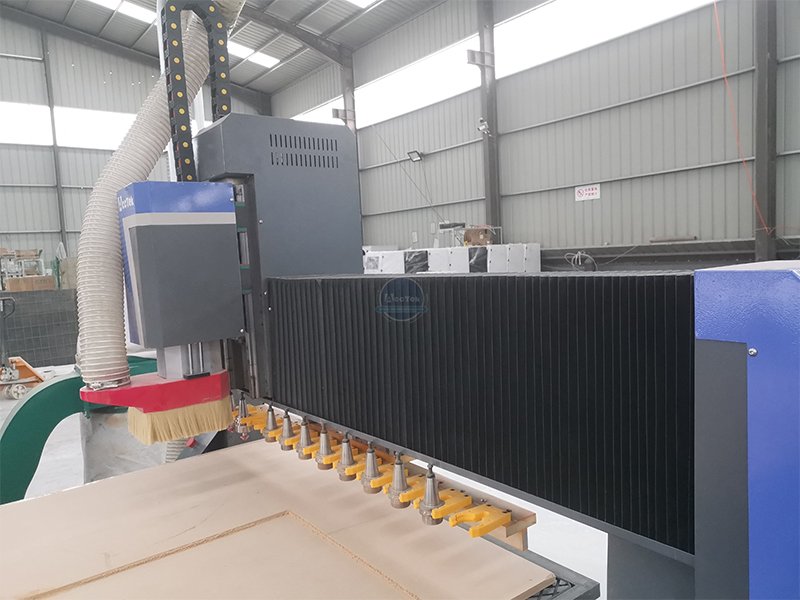 ---
The closet Manufacturing Company is a leader in
CNC machine
tools
Many manufacturing companies are now using CNC machines to design closets and do other woodworking.Each piece of wood can be customized with a CNC machine tool to bring your home to life.CNC machine tools play an important role in cutting, carving, and creating closets within homes or businesses.CNC woodworking engraving machine can also be efficient batch production and copy products.Carving, cutting and carving used to be a complex task that could be accomplished in a relatively short time.
CNC machine tools help to design closets according to your requirements.Before you design a closet, the first thing to know is how big or small you want your closet to be.It's obviously tempting to see large, spacious, and walking closets, but organizing a closet according to your space can be a difficult task.Maximize your space!Don't waste even an inch when planning to build a closet.Design your wardrobe to be more ergonomic.CAD software designs wardrobes beautifully according to the requirements of clients and CAM software, cuts and carves logs, gives appropriate shapes and sizes, and customizes as needed.
Design and organize storage Spaces
In the past few years, there have been significant advances in technology.Cabinet and closets manufacturing companies have turned to newer technologies, such as CNC machines for cutting and engraving materials, simplifying design into the production process and eliminating errors that can occur when converting drawings to CNC.CNC machine tools use CAD drawing software and are specifically designed to meet the needs and requirements of the closet industry.CNC machines have eliminated redundancy and difference in wardrobe components and provide users with a consistent, quality-based product.
Every custom storage solution manufactured by CNC machine tools guarantees 100% customization.With CNC wiring machines, cabinet makers can reduce lead times and reduce material handling.CNC machines allow closet manufacturers to use a manufacturing technique that improves production time, quality, and consistency.
Work that once required a large number of machines can now be done with the help of a single machine, with 100% efficiency and accuracy.If you're also looking for a custom wardrobe, seek the help of a manufacturer.CNC woodworking machine tool.This computer-controlled machine inputs information directly from our cabinet design software and performs the necessary operations to build the closets.Closet doors, drawers, and cabinet sections are precisely cut, routed, and drilled to add adjustable drawers.
---
How to use branding and digital marketing to improve sales?

Brand and digital marketing for

CNC machine

tools workshop is very critical.The reality, however, is that many workers still do not have access to digital power.They are still reluctant to invest in new digital tools.However, it is not a science for a NUMERICAL control worker to realize that more buyers, engineers, and even purchasing managers are trading online.In addition, large industrial companies are supplementing their offline marketing approach with digital marketing to create growth and increase brand awareness, which ultimately drives more sales.

Here are 4 ways THAT CNC machine tool workshop workers can work here to increase their sales through branding and using digital marketing.

Create a free company profile on platforms like LinkedIn to make sure you're easily accessible to both new and existing clients.

Focus on content marketing using images, graphics and video content to showcase your capabilities and knowledge to potential customers and workshops.

You can provide the option of newsletters or email subscriptions on your website;This way, you will be able to know who has visited your site and how many of them have been converted into real customers.

You can design a new strategy for search engine marketing and search engine optimization.This way, you can focus on organic and paid search, as well as ads on different social platforms and sites where buyers are searching for services like you.

Despite the critical position of the market, you can devise new strategies and focus on digital marketing, which will undoubtedly bring you a lot of business in the later stages of this pandemic.