At present, many people are familiar with engraving machines and cutting machines, because most of the market is engraving machines and laser machines. Engraving machines are very popular in the woodworking furniture industry. Laser machines are very professional in cutting materials.
They are in our lives. They play their own role, and their presence is becoming more and more common.
But most of us are relatively new to
oscillating knife
and rarely see it. So what is a oscillating knife?
Oscillating knife is a device for cutting flexible materials, such as leather, fiber cotton, silicone, rubber and other materials. It is suitable for industries such as advertising packaging, clothing and footwear, automotive interiors, and luggage.
It uses the high-frequency vibration of the blade up and down to cut, there are about tens of thousands of vibrations per minute, which not only helps us reduce the error of manual cutting of materials, but also greatly improves work efficiency. It is a very popular machine.
---
AccTek
cnc cutting machine
is specially designed for the cutting of flexible materials in advertising, shoes, clothing, leather products, luggage handbags, seat covers, car interiors, carton boxes, lighting design, textile, paper, composite materials and other industries. Developed automated CNC cutting equipment. Comprehensive application of imported linear guides, timing belts, precision racks, precision screw rods, servo drive system transmission, high cutting precision, zero error to and from the origin; cutting speed up to 1500mm / s, high-speed USB or network transmission, high-definition human-machine interface, The operation is simple and friendly, the professional team has developed and accumulated technology for many years, and its stability and practicability have reached the leading technology level at home and abroad.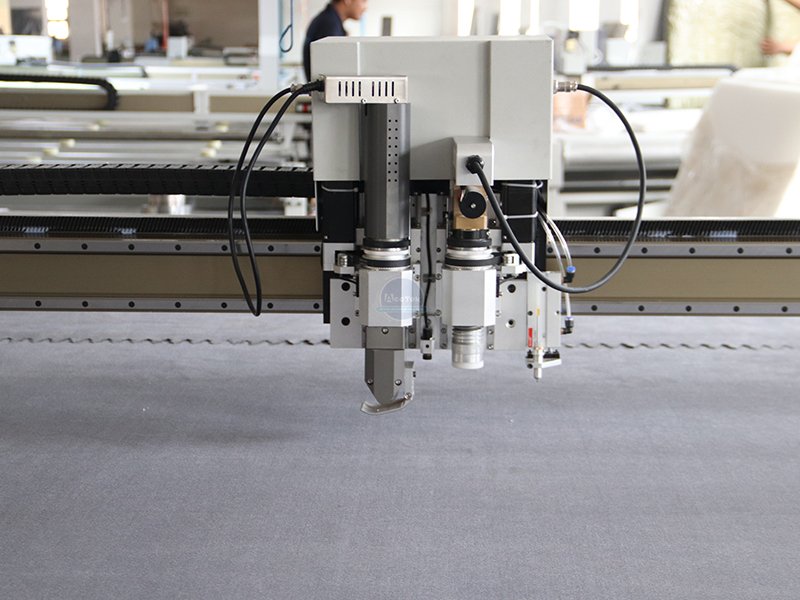 ---
Environmental requirements for installation

The installation location must be kept away from dust, dirt, moisture, and rain. The floor placed must be flat and capable of carrying weight.

The ground with a cover that attenuates the sound is preferred to prevent the transmission of mechanical vibrations.

The power connection, air compressor or air supply at the installation site should be consistent with the required specifications.
---
This ACCTEK
oscillating knife
has received praise from many customers and is our company's star product. It has many advantages.
Features
User-friendly and versatile
Compatible with CorelDraw and Auto CAD
Support the file format like AI, PLT, DXF, etc.
Machining by layer and designing the output sequences as required
Optimal multipaths routing and pause during machining
Multi-ways to save and reuse graphic & processing parameters
Working time estimation, cost budget and auto composing
Locating mode: Array output, instant positioning and back to the origin
Design starting point, work path and knife parking position as required
Communication mode: USB, Network and U disk
If you are interested in this machine, you can come to our official website to consult, ACCTEK is definitely your first choice!
https://www.acctekgroup.com