A
CNC router
or CNC router is a cutting machine controlled by a computer with inherent capabilities that can perform workshop mechanical tasks.The equipment cuts hard materials such as aluminum, plastic, steel, composite materials, wood and foam.
For example, woodworking workshop machines such as boring machines, spine moulds, and panel saws use them.The capabilities of the CNC router make it suitable for vertical applications in a variety of industries.
The following are the most notable industrial applications of CNC routers we now see -
Cabinet industry - NUMERICAL control software can help designers to demonstrate the design of the entire cabinet and obtain the required material design.CNC router, specialized for the production of nested - based cabinets, closets and custom furniture.Delivery times have been greatly reduced.It is highly versatile in routing, drilling and cutting materials.It is designed to meet the diverse and complex processing requirements of manufacturing units.They were overused in manufacturing such as woodwork and furniture.
Furniture manufacturing - One of the notable applications of CNC routers is furniture manufacturing.Use tools such as drilling, wiring, planning, slotting, and polishing.The CNC router also has the ability to move simultaneously on a parabolic plane, an automatic knife changer and multiple heads.These devices are capable of producing modern designs while maintaining their utility and quality.
Toy manufacturing - CNC routers can intricately carve wood to create stunning masterpieces, including toys.The complexity and delicacy of the artwork is entirely aided by a three-axis CNC router. This amazing device can carve and sculpt interactive toys, 3d designs like animal puzzles, names carved into wood, and provide accurate specifications.CNC routers can simply change a customer's life.
Symbol making - Cnc routers allow the logo manufacturing industry to work on products such as ABS, acrylates, Lexus, high density polyethylene (HDPE), polyethylene glycol (PETG), polyvinyl chloride (Pvc), and ultra-high molecular weight (Uhmw).Using an automatic knife changer is the best option.
CNC routers can produce symbols for bronze, plastic, aluminum, foam, wood and various materials.The latest software allows signmakers to perfect whatever materials they use.
CNC router is used for badge making, outdoor sign cutting, furniture carving, acrylic letter cutting, Acrylic carving, wood carving, PVC cutting, ABS cutting, jigsaw cutting, emboss carving, MEDIUM density fiberboard cutting carving.
A, a nameplate
B. the sign
C. Indoor and outdoor signs
D advertising signs
E. Control panel
F. label
G. Industrial prints
H.Function label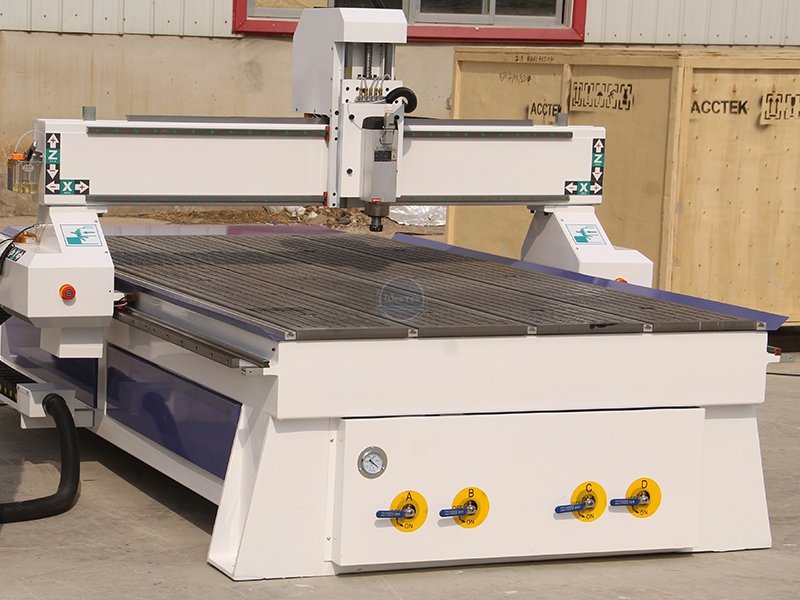 ---
Plastic manufacturing -
CNC routers
perfect for ABS, Acrylic, HDPE, LEXAN, PETG, PVC, UHMW, etc.These routers provide a variety of functional bases for manufacturing the quantities and quantities needed.For example, an automatic knife changer can meet the requirements of medium to low volume.For a lot of demand, bulls tend to be better.For a limited budget and low demand, a laser cutter is the perfect choice.
Exhibitions and trade shows - with unique and customized displays of the best quality and efficiency, with a CNC router, you can create customized shelves, walls, floors and product displays in a short time.Important parts of these machines are their durability and the guarantee of introducing cutting-edge displays.The precision and precision of the CNC router will satisfy the requirement of attention to detail.Through the precision cutting of laminate, wood, foam, plastic and metal, this undoubtedly opens up many possibilities for the success of your booth design.
CNC routers are highly capable of mimicking a craftsman's skills.Artisans can be seen in carvings, arches, sculpting, bras, intricate three-dimensional relief designs, as well as grooves and rotating columns.
With the WORK of CNCS, indexing on the lathe made 3d cylinder engraving a super easy process.Architectural designs include three-dimensional designs, including carved osmanthus leaves, classical crowns and mantels.The main advantage of architectural abrasions is time saving, as the CNC cut sections are up to 95%, which can be hand-carved later with precision and refinement.This, no doubt, saves thousands of hours without raising any quality limits and compromising the craftsmanship you have envisaged.
CNC can help manufacturers provide extra time to sculp more complex designs that are not feasible due to time and cost constraints and go beyond the scope of conventional tools.
Another benefit of CNC routers is the woodcarving industry.Wood processing is a multimillion-dollar vertical industry, recognized and appreciated for its repeatability and quality.
These routers produce obvious tailoring, making a simple piece of wood invaluable as a gift, furniture or craft.These devices are applied to the wood carving industry, and it is only our imagination that limits us to perfect our products.
Aluminum machining - CNC routers work quite well with the plastics and wood industries.However, their applications extend to cutting the weaker, thicker metal aluminum.There are a few things to keep in mind when cutting metal, otherwise it can be a frustrating process.Try using the feed rate calculator;Check the groove and cutting depth, check the flue, and lubricate the metal with fog.
Sheet Plastics processing -
CNC router
cutting, routing, and MIL sheet plastics materials, engineering plastics and free release kits.Their use gives excellent finishing and high quality parts.In the sheet plastics processing industry, accurate, repeatable and small sized holes are required for product function and integrity,
Some industries use high-powered CNC to produce a large number of precision prototypes, such as microdrills, front panels, plastics processing, 3D engraving and rapid prototyping.