Everyone on the planet has different hobbies and preferences.A closet is a kind of personal inclusion.You can provide complete ideas for your wardrobe, you just need to know where to start?The idea of a perfect closet is different for everyone.
Clearly, measurement plays a vital role in designing closets.Many more indulgent factors contribute equally to these dimensions.Ultimately, the finished closet should be well organized to manage and arrange items.This will help you simplify your daily life.
Some of the main prerequisites
It's one thing to carefully measure your free space.In addition, you need to consider more storage requirements, and there should be enough floor space.In addition, if you have some basic woodworking skills, you can build a closet in any room you want.Perhaps a quick guide will help you execute each step carefully.The planning, design, and construction process for each closet is completely different.Therefore, if you have an overview in mind, it may be easier to configure the actual requirements.
Any plan needs to be measured.You can use a computer or draft a sketch manually.Evaluate the availability of your requirements and space.Before drawing the design of your wardrobe, you should balance everything from design to storage requirements.You need to be reasonable about everything you expect in your fixed closet.After considering the items to be stored in the closet, figure out how much space the asset needs to be stored.Try to conform to some basic considerations.
If you haven't done your homework, it's wise to have a floor plan before you build a closet.Collect room dimensions and record doors and Windows appropriately.The floor plan also includes light switches, air vents and almost everything else necessary to give the wardrobe an ideal appearance.Be very specific and vigilant in gathering these details, as this will serve your entire closet building.Your small inadequacies can overwhelm your design and sabotage your entire effort.
It doesn't matter that your design is elegant, you should plan it perfectly by considering all relevant factors.You don't like surprises after you've made your wardrobe, and you won't be happy if your clothes don't fit in your wardrobe.There are many points to consider before planning and designing a closet.
---
The tools needed to make a wardrobe

Modern CNC machines are popular for creating creative wardrobes.CNC routers from ACCTEK, for example, for creating specialized carvings such as closets, cabinets, door panels, and scrapbooks, will bring you two prominent machines to help you design your closets with superior design:

The automatic tool change feature makes it easy for the ATC router to create a beautiful wooden closet.In addition, you can also use it to make computer desks, cabinet doors, desks and so on.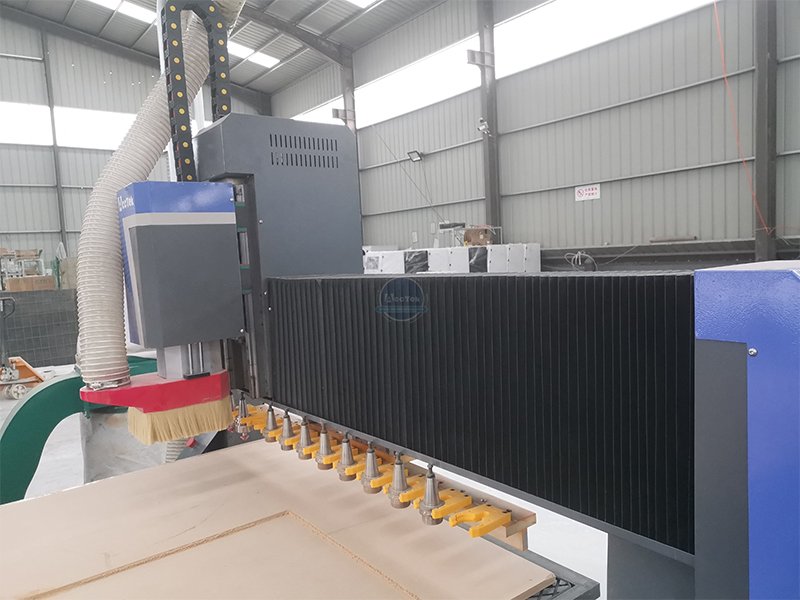 The CNC router is best produced by nesting the base of custom furniture, cabinets and closets.Its high speed, heavy load, saving a lot of time and manpower.
In addition, you can choose any other CNC router you like depending on your needs.The automatic features of these machines will free you from the tedious manual operation of drilling, side milling, cutting, wiring, etc.
Jinan AccTek Machinery Co., Ltd. is a professional production of
CNC engraving machine
equipment and laser equipment enterprises.Since 2005, the company has been headquartered in Jinan Industrial Park, Shandong Province, south of Beijing.Our main products are AccTek CNC road engraving machines and laser engraving and cutting machines.Inventory or custom configurations are our specialty.Our machine components are sourced from world class suppliers and innovators in machine control.These machines are used in many industrial, craft and art enterprises around the world.These include woodworking, metal and stone, aluminum manufacturing, shipbuilding workshop assembly, mold manufacturing, and so on.Our professional and technical after-sales service department, sales team and perfect quality assurance procedures, so that you feel at ease to buy.We welcome customers and potential business partners from all over the world.We can cooperate for mutual benefit."Our business is to improve your business."
---
No matter what detailed work was done to build the closet, every tiny architectural detail needs to be carefully examined to get the perfect job done.Here are some helpful tips to help you in your next building -

1. Prioritize space

The most important recommendation is to prioritize your space according to your storage requirements.It's best to use different terms to arrange the space, such as hanging clothes and folding clothes.If you're not well organized, you'll end up undermining your efforts.

2. Create bold dividers for folding clothes.

If you want to have a separate space in your closet for folding clothes, make sure there is enough space between them.Obvious differences will help keep those clothes from getting cluttered.In addition, the relaxed view will once again take you away from busy searches.

3. Arrange by color or style

You can arrange your wardrobe with color and style to make your prep time a little easier.The color-coordinated contours of your wardrobe look great, and your style-based approach will talk about your perfectly arranged clothes.

It will be easier to build a closet if you have some helpful Suggestions.This guide will help you determine your space and arrange it perfectly in your newly built closets.The smart decision is to buy a CNC router if you build wooden furniture, such as cabinets, closets, etc., that is your core business.ACCTEK is an ideal place to invest if you plan to buy any of these miracle machines.