oday, I would like to introduce two popular models of ACCTEK laser cutting machine to you. I hope you can find a machine that satisfies you.
AKJ1530FB(12kW) fiber optic laser cutting machine
can cut 37mm carbon steel or even thicker.AKJ1530FB fiber laser cutting machine USES the best mechanical parts, high-quality fiber laser source, service life of over 100,000 hours, can cut carbon steel quickly and precisely.We all know that carbon steel is hard to cut because it's so hard.High power fiber laser cutting machine can cut carbon steel of different thickness.
With the development of metal processing industry, more and more customers need high power laser cutting machines to cut thick metal materials.In this case, the ACCTEK high power laser cutter has emerged to meet customer demand.
If you need to cut thick metal materials in the metalworking industry, please try AKJ1530FB fiber laser cutting machine.The quality and effectiveness of the cutting will not let you down.Welcome to visit our optical fiber laser at your convenience.
Main features.
Fiber laser cutting machine as one classic model, widely used in many common areas of our life, such as processing of stainless steel kitchenware, storage cabinet and other cabinets, is closely related to people's daily life.
Used for cutting a variety of metal plates, pipes (add pipe cutting device), mainly used in stainless steel, carbon steel,galvanized sheet, electrolytic plate, brass, aluminum, various alloy plate, rare metal and other metal materials.
1) Low cost and the power consumption is 0.5-1.5kw/h; Customer can cut all kinds of metal sheets by blowing air;
2) High-performance. Imported the original packaged fiber laser, with stable performance and the lifespan is over 100,000 hours;
3). High speed and efficiency, the speed of cutting metal sheets close to tens of meters;
4) The laser maintenance free;
5) The cutting edge looks perfect and the appearance is smooth and beautiful;
6) Imported the transmission mechanism and servo motor, and high cutting accuracy;
7) Dedicated software enables graphic or text to be instantly designed or processed. Flexible and easy operation.
Standard configuration:
# Heavy duty structure(7500kg)
# Full enclosure structure, high safety
# Raycus laser generator
# WSX/Raytools brand cutting head
# ATLANTA gear and rack, Rack and pinion transmission
# Japanese SMC Airtac pneumatic element.
# Industrial water chiller
# French MOTOVARIO reducer
# French Schneider Electronic Components
# Including computer
# Automatic exchange platform as option
# Rotary axis cutting steel pipe as option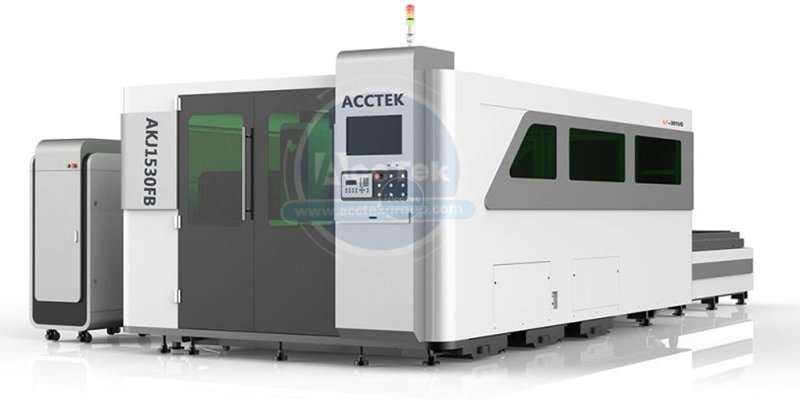 ---
AKJ1325 high speed non-metallic laser cutting machine
is one of the best-selling models of all ACCTEK non-metallic laser cutting machines. It is popular for its suitable body size, which is 1300 by 2500 mm.This laser cutting machine is suitable for non-metallic materials of different thickness. The high-power laser is 80W, 100W, 130W and 150W, which can meet the requirements of customers.After years of design and manufacture, it can cut nonmetallic materials rapidly and precisely.
Acrylic and other non-metallic materials are widely used in many industries. If you need a high-speed, high-precision laser cutting equipment for some of these non-metallic materials, ACCTEK can meet your requirements.
Main features.
1) Fixed cabinet frame for rigidity.
2) Materials can extend through the front and rear doors to allow for a larger work product.
3) High precision equilibrium linear guide ensures the precise processing effect;
4) Adopt the super fine cutting technology, which has features of extensive material processing, smooth cutting edge and burr -free;
5)Laminated Safety Glass;
6)Original Singapore imported lens with molybdenum base, making the equipment produce smaller facula and stronger cutting force;
7) Exhausting, absorbing and assistant blowing systems solve the problem that troubles the laser equipments manufacturing industry for years;
8)The laser cutter is equipped with aluminum strip shape platform;
9)This machine uses USB port to transmit data, it is equipped with large internal memory capacity,
10)Adopts high quality RECI /EFR CO2 glass laser tube made in China.
In addition to the above two machines, ACCTEK also has a variety of laser cutting machines, welcome to our official website to browse other machines.
https://www.acctekgroup.com/index.html