The
ATC CNC Router with cutting saw
has a 9.0kw ATC spindle for engraving and cutting common materials. The cutting saw with a diameter of 300 mm can cut panels with a maximum thickness of 50 mm at high speed, which is very suitable for the processing needs of furniture panels and door panels. Using Taiwan servo motor, higher precision and more stable operation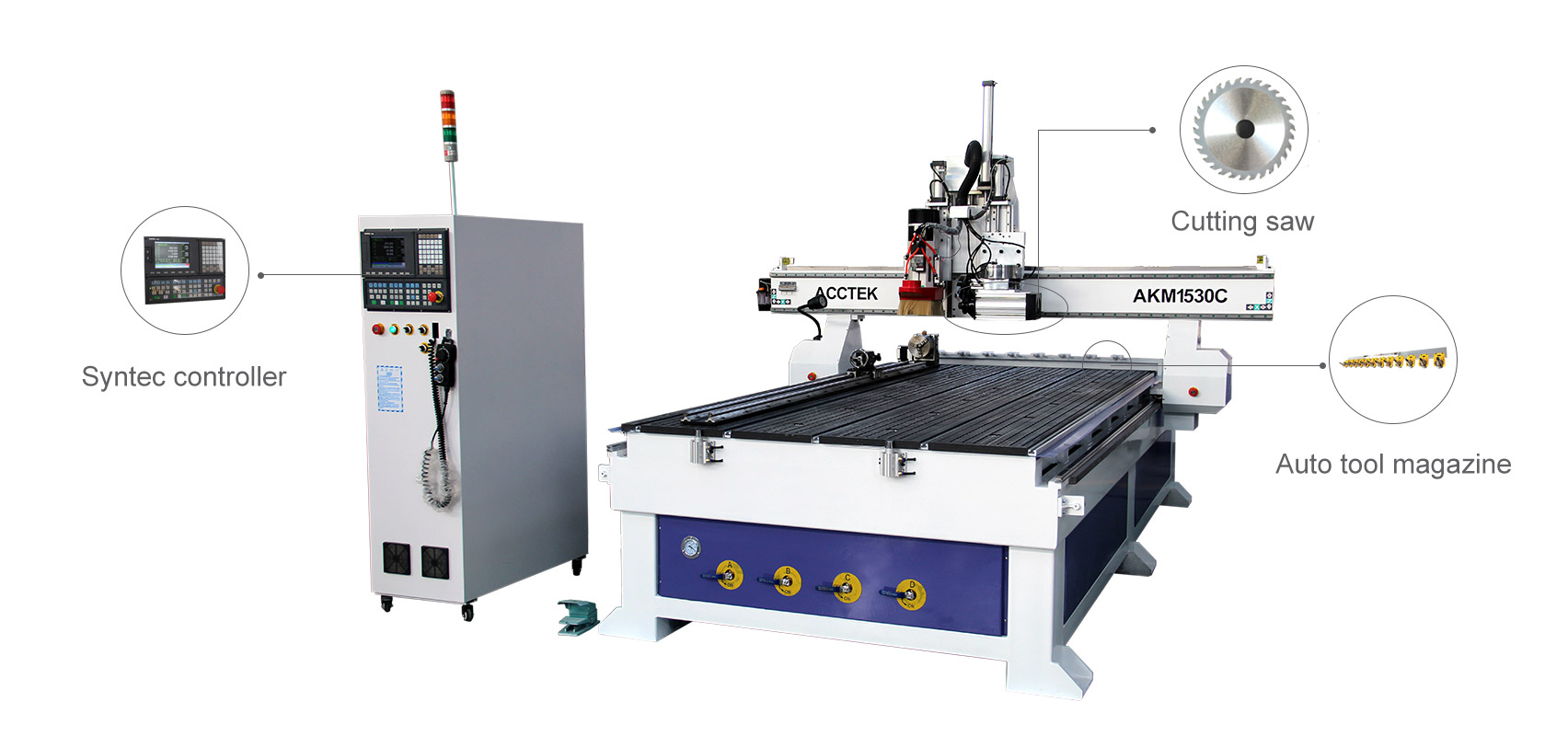 1. Good processing effect
The main performance is that the cutting accuracy is extremely high, using Delta servo motor, faster speed and signal feedback, low heat radiation, ultra-low speed and smooth operation, reducing vibration and avoiding vibration. The second is the high speed of the saw head. The
automatic tool-changing CNC woodworking band saw machine
adopts a high-power motor. The speed of the saw head can be 50000mm/min. With a suitable saw blade, the cutting smoothness is very high.
2. Many processing styles
Automatic tool changer is divided into ATC linear tool changer and ATC rotary tool changer. The standard configuration is an ISO 30 tool holder, which can be used with tools with a maximum diameter of 20 mm. The ATC linear tool changer is fixed at the rear of the machine. Every time a tool is changed, it is necessary to return to the tail from the work area to change the tool, to reset the tool to zero, and then to work. Compared with manual tool change, it is more convenient and efficient.

Compared with the ATC rotary tool changer, the price is cheaper; the ATC rotary tool changer is fixed on the side of the gantry and is always on the same horizontal line with the spindle. The tool change does not need to be zeroed, which is more efficient than the linear tool changer. It can be applied to the processing requirements of a variety of different shapes and types. It can cut straight materials or cut various curved materials to meet your different processing requirements.

3. Wide processing range
Automatic tool change cnc router-AKM1530C
For furniture and door panel processing industries, the material area is large and the thickness is high. After engraving the pattern on the board, it is usually necessary to make a large number of straight cuts on the board. At this time, professional tools are needed to complete the cutting of the plate.
The motor of the automatic tool-changing CNC woodworking band saw machine can use a high-power motor of 4KW or even 9KW, which has ample power and can cut wood up to 260mm thick, and it can be easily cut regardless of hard materials or soft materials.
4. Simple operation
Take the
automatic tool change
cnc router
-AKM1530C
as an example. The saw blade can automatically rotate according to the processing program, and can cut the plate in multiple directions without manual switching. The operation is simple and convenient. The anti-interference ability and control accuracy are better than other categories. The CNC system will try to simplify the operation, and there is no need to mark the products one by one.
As long as the shape and size of the products to be processed are input into the computer, the CNC system can make the machine run automatically, even If there is no CAD drawing, find a finished model and take a picture and input it into the computer. After the computer recognizes it, you can start processing with a little adjustment.